Don't get involved with Clearview's dodgy data
Clearview AI are in the spotlight again, after a pitch deck they've been sharing with investors was leaked to the Washington Post. The slide deck included a list of potential commercial business partners that included dating apps, ride hailing apps, even a baby sitting company. Their list was speculative, but concerning. So, we're asking those companies to pledge that they will never work with Clearview, or use their dodgy database.
Call to Action
Post date
17th February 2022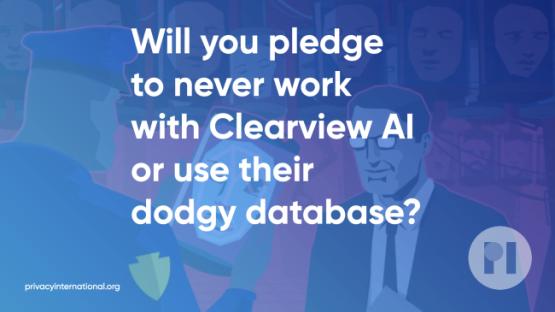 Our Open Letter
To the company reading this,
You may have seen Clearview AI has been pitching for investment on the basis that - one day - you will be using their services.
You may not know who Clearview AI are. Clearview AI are a facial recognition company that has been scraping data from across the internet to build a colossal database. What this means is that without their knowledge, people's faces can be stored indefinitely in Clearview AI's database, accessed by a wide variety of strangers, and linked to all kinds of other online information about them.
Such data collection has already been found illegal in major jurisdictions around the world, in breach of privacy and data protection laws such as the EU's General Data Protection Regulation (GDPR). Clearview AI are now facing liability in the form of huge fines and orders to delete data, with more to come.
You may be wondering why you would want to get involved with a toxic and dangerous business that may pose a threat to your legal and ethical obligations, and your commitments to customers. The answer is simple: you don't. Clearview AI are looking for investment on the promise of your future business, but you don't need or want them to make that promise.
Take our pledge that you will not, nor will you ever, work with Clearview AI, or use their database in this way.
Yours sincerely,
Privacy International
How companies can take the pledge
If you're a company and you want to take the pledge to never work with Clearview AI, you can download and share the pledge card attached to this page on your social media.
If you want to be listed on this page, let us know by emailing us at: info@privacyinternational.org with a link to where you've posted your pledge.
Clearview AI only have a LinkedIn, so be sure to post the pledge on your LinkedIn page (if you have one) and tag them.
Or you can go here and press one button!
You have the power to push these companies to act. Use the below links to ask them to take our pledge, and shut down these partnerships before they've even begun.
Bumble and Match
Lyft and Uber
Airbnb
Handy
Sittercity
Veriff, Jumio and Onfido