Guide to International Law and Surveillance (2.0)
Long Read
Post date
28th February 2019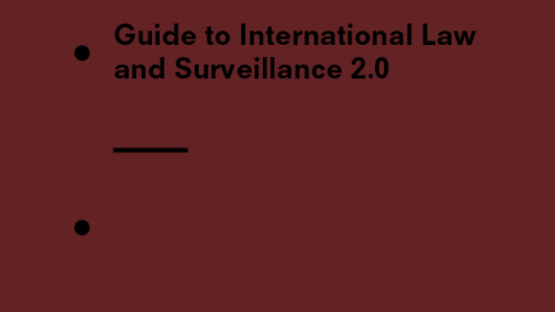 This guide covers an array of topics, including the legality of mass surveillance operations, the law surrounding data retention, the extraterritorial application of human rights law and digital surveillance, and the international law on hacking for surveillance purposes. It is a handy reference tool not only for lawyers, but also for anyone engaging in campaigning, advocacy, and scholarly research.
Originally published in 2017, the guide has been updated to reflect the most relevant legal developments since then. This includes:
- New resolutions adopted by the UN General Assembly and the UN Human Rights Council;
- Extracts from the most recent reports of different UN bodies; as well as
- Extracts from the most recent judgments of the European Court of Human Rights.
It also has a new section dedicated on the safety of journalists.
The first section of the guide offers an abridged version of the most substantive articulations of law surrounding the sub-issues covered, as they are reflected under both UN law and regional human rights law. If you cite nothing else, these are the quotes that you want to reference. The second section of the guide offers additional quotes for each of the sub-issues, beyond the primary ones introduced in the first section.
The guide is a living and breathing document and we will be adding new content as more statements and resolutions emerge. Please reach out to us at info@privacyinternational.org if you have quotes or topics you want us to add.
Related learning resources