Privacy International is a registered charity in England & Wales (no. 1147471). We raise money to fund our work to promote and protect the human right of privacy throughout the world.
Our primary cost is our staff, whose legal, technological and campaigning expertise are PI's main resource in achieving impact.
We also use our funds to protect privacy directly in dozens of countries across the world. We support national advocacy organisations who are driving change in their countries, and building a global movement together.
How we spent your money
How we spent your money in 2021
Campaigns, advocacy and research - 75%
Management & Admin - 13%
Direct partner support - 12%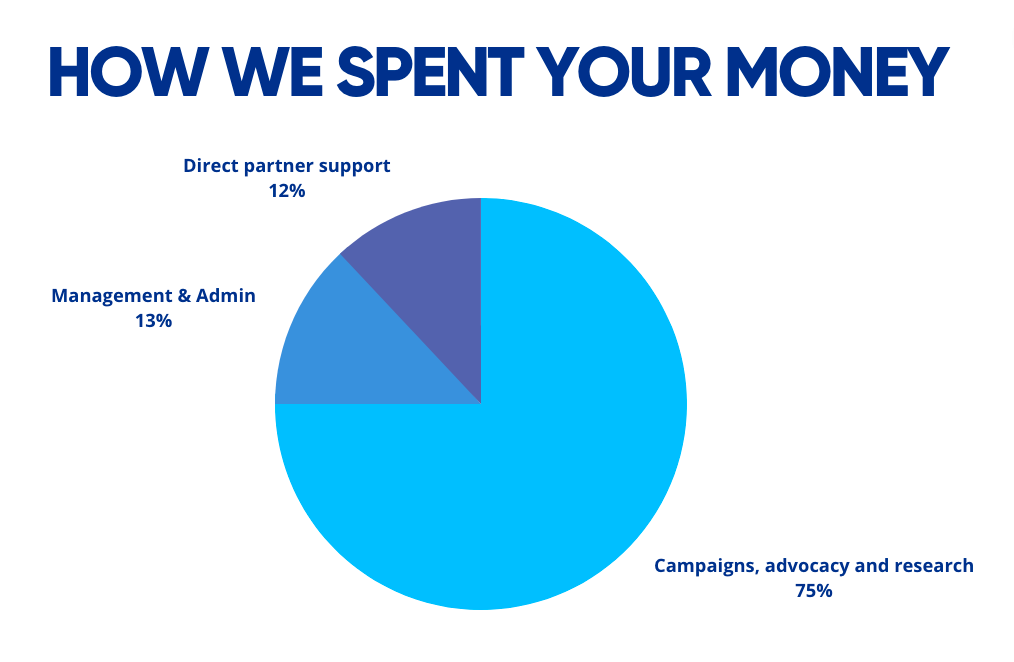 Sources of funding
Privacy International is proud to be an independent, cutting edge and sustainable organisation. We achieve this by ensuring we are funded by a range of sources.
Individual Donations
We are very fortunate to receive funding from members of the public. Individual donations are hugely important to us, and we are extremely grateful for the trust and confidence that the public places in us and our work. We receive donations via one off donations, regular giving methods and through payroll giving. You can make a donation here.
Trusts, Foundations, Development Funders
We receive grants from charitable trusts, foundations, and international development agencies.
We are very grateful to the following organisations for their support: the Ford Foundation, Luminate, Oak Foundation, Open Society Foundations, Swedish International Development Cooperation Agency and the Paul Hamlyn Foundation.
We have been previously supported by the Adessium Foundation, the Esmée Fairbairn Foundation, the International Committee of the Red Cross, Media Democracy Fund, Mozilla Foundation, Sigrid Rausing Trust, International Development Research Centre and the Street Foundation.
We do not accept funding from corporations or governments because we believe that it would jeopardise the independence of our activities.
How we manage funds
PI seeks to continuously strengthen our financial management systems. We work hard to ensure that PI is accountable to the public, our partners, and our funders.
All expenditure is carried out with reference to Privacy International's multi-year strategic plan and annual workplan, as approved by PI's independent Board of Trustees prior to the start of each financial year. Financial procedures have been developed to monitor and evaluate the charity's finances. This includes quarterly management accounts, which are prepared for review by Trustees, prior to each meeting of the Board.
The Board of Trustees has established a Finance and Audit Committee to advise the Board. The Committee is responsible for recommending finance management policy to the Board and ensuring that existing policies are implemented. The audit function of the Committee is to consider the adequacy of risk management, internal controls, and governance.
Below are our annual reports. You can also see them on the website of the Charity Commission of England & Wales.
Reports