Civil society response to call for inputs for Global Study on the Impact of Counter-Terrorism Measures on Civil Society and Civic Space
Ten civil society organisations submission to the UN Special Rapporteur on counter-terrorism and human rights
Key advocacy points
Key concerns brought forward by our submission highlighting their impact on civil society:
Use of surveillance technologies in emergency responses for the Covid-19 pandemic
Targeted and mass surveillance against among others journalists and human rights defenders
Use of biometrics under the pretext of countering terrorism
Advocacy
Post date
10th February 2023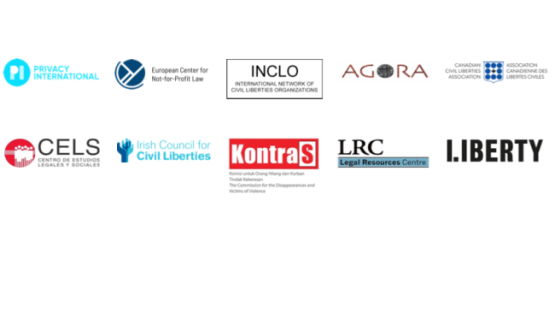 Privacy International (PI), the European Center for Not-for-Profit Law (ECNL), International Network of Civil Liberties Organizations (INCLO), Agora, the Canadian Civil Liberties Association, Centro de Estudios Legales y Sociales in Argentina, the Irish Council for Civil Liberties, KontraS in Indonesia, the Legal Resources Center in South Africa, and Liberty in the UK welcome the opportunity to provide input to the global study of the UN Special Rapporteur on the promotion and protection of human rights and fundamental freedoms while countering terrorism.
We believe that this forthcoming study could put to the forefront the continued and increasing misuse of counter-terrorism laws and policies against civil society and civic space and demonstrate the importance of the meaningful participation of diverse civil society. The submitting organisations trust that the global study could counter narratives of securitisation driving ongoing counter-terrorism policies and inform future counter-terrorism strategies. It could further assist states, companies, and other actors to cease counter-terrorism efforts that undermine the role and work of civil society across the globe, and to take the necessary measures to protect civil society against abuse.