Facewatch: the Reality Behind the Marketing Discourse
Key findings
Facewatch is allegedly developing a facial recognition technology that will work when people are wearing masks
Statements by the CEO of Facewatch and marketing documents suggest the company is partnering with police departments in the UK - but the reality is unclear
Beyond the marketing discourse, this situation stresses the impending need for more transparency when it comes to partnerships between police forces and companies selling surveillance technologies.
Long Read
Post date
15th October 2020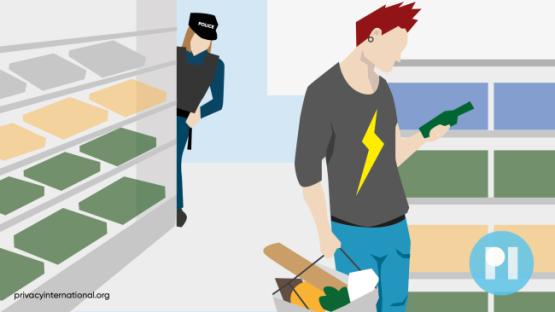 As more and more of us feel compelled to cover our faces with masks, companies that work on facial recognition are confronted with a new challenge: how to make their products relevant in an era where masks have gone from being seen as the attribute of those trying to hide to the accessory of good Samaritans trying to protect others.
Facewatch is one of those companies. In May 2020, they announced they had developed a new form of facial recognition technology that allows for the identification of individuals based solely on the eye region, between the cheekbones and the eyebrows, and that they would upgrade the systems of their subscribers accordingly.
Leaving aside the efforts of companies dealing with facial recognition technology to remain relevant in a post-Covid world, it is worth paying close attention to a company like Facewatch that has often talked about its alleged partnerships with public authorities in the UK. In this piece, we will take a closer look at what Facewatch offers its subscribers and investigate their alleged relationships with police forces.
What's Facewatch?
Facewatch is a company that was founded in 2010 by Simon Gordon, the owner of Gordon's Wine Bar in London. Facewatch describes itself as a "cloud-based facial recognition security system [that] has helped leading retail stores… reduce in-store theft, staff violence and abuse." The company is now working internationally, with distributors in Argentina, Brazil and Spain.
The way Facewatch initially worked was that businesses (shops, bars, nightclubs…) would install Facewatch cameras in their premises. Using the footage from those cameras they would be able to identify "subjects of interest", for instance, people who were seen on cameras stealing from the shop or displaying antisocial behaviour or generally anyone they did not wish to see in their shop. They would therefore create and store a list of effectively blacklisted individuals. 
By scanning the faces of everyone who enters a shop and comparing them to the faces of those blacklisted, Facewatch is able to identify if a person who enters is on the blacklist or not. If they are, the shop owner receives an alert to inform them a subject of interest (SOI) has entered the premise, along with a picture of the person.  
But Facewatch does not stop there. The company centralises the list of SOIs that their subscribers upload, and they may share them with surrounding subscribing businesses. So, for example, if you run the Facewatch software in your grocery store and the pub across the street also uses Facewatch and identifies John Smith as a SOI, John Smith will also be added to your "blacklist" and you will be alerted when he enters your grocery store, even if you have had no prior interaction with John Smith.  
Facewatch has also allowed their users in the UK to file police reports automatically upon witnessing a crime. Facewatch users could send the police footage of a crime being allegedly committed. According to articles dating back to 2011, users were "given a crime reference number straight away" so that they could "follow the details of their case online." At the time, Simon Gordon had said that "it helps if a business's local police force is supporting the scheme, because the process is more streamlined."
It is unclear what the specific nature of the agreement was between the police and Facewatch before 2019 – in 2015 Gordon had told the BBC that 13 police forces had joined the scheme.  
A FOI request filed in 2012 regarding to the Camden Borough Council revealed that, as part of its "Community Safety Budget 2011-2012," the council had spent £1,800 for a Facewatch Trial, describing the purpose of the expenditure as "Police/licensed premises project: anti-violence." It is unclear whether those expenditures had to do with the local police supporting the scheme or if they were themselves trying out Facewatch as subscribers.
But in 2019, a new partnership between police forces and Facewatch started gaining attention: the police and Facewatch were about to start an official agreement to share and receive data with and from the police.
Facewatch and the police: what is Facewatch saying?
According to the FT, Simon Gordon announced in 2019 that Facewatch was about to sign a data-sharing deal with the London Metropolitan Police and the City of London police, and was "in talks with Hampshire police and Sussex police." In July 2019, Facewatch was still reported has having been "in talks" with the London Metropolitan Police and the City of London police. Quoted by the FT, Mr Gordon claims that the "deal with police is they give us face data of low-level criminals and they can have a separate watchlist for more serious criminals that they plug in…If the systems spots a serious criminal, the alert is sent directly to the police, rather than to retailers".
The idea behind those deals was to have the police share with Facewatch subscribers lists of low-level criminals for shopkeepers to be informed when they come in on their premises. But there would also be a separate list for more serious criminals. Shopkeepers would not have access to that list and when a serious criminal enters a shop, an alert would be sent directly to the police, not to the shopkeeper.
Similarly, in Brazil where, as of February 2019, Facewatch has been used in three malls, the governor of Rio de Janeiro, Wilson Witzel, a supporter of the Brazilian president Jair Bolsonaro, also said he planned to allow the police to share their watch list of suspected criminals with facial recognition companies. This is people who have not been charged with a crime and have not been convicted by a court.
Digging beyond PR – what do we really know about the Facewatch/police partnerships? 
According to Facewatch's profile on the Digital Marketplace, a UK government website that allows tech companies to offer their services to government branches:;
"Facewatch is a secure cloud-based platform that uses facial recognition technology to send instant alerts to businesses or police when subjects of interest enter business premises. Facewatch also provides secure access control using facial recognition for use in Govt properties (eg prisons) enabling comparison of visitors across properties."
The main difference is that in the list of benefits, we find two things that differ from how Facewatch seems to be marketing itself to business owners on its website: "Track Major Crime suspects in real time via camera network", "Share watchlists of low risk criminals with businesses securely." These are the features that Gordon referred to when he claimed that he was about to sign a data sharing deal with police forces.
"Terms and Conditions": an unsigned template data-sharing agreement between Facewatch and the Metropolitan Police 
Available on the Digital Marketplace is a "Terms and Conditions" document, which is in fact a 34-page pdf that was meant as a draft Information Sharing Agreement (ISA) between the Metropolitan Police (Met Police) and Facewatch, and is now used as a template.