A day in the life of Catalina, a forty-year-old cis woman living in Bogota
News & Analysis
Post date
13th March 2018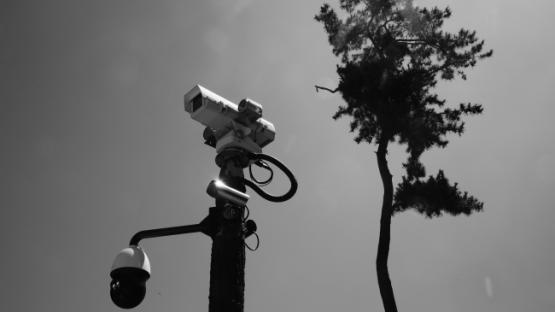 Written by Karisma Foundation
7:03: Catalina leaves her apartment and a security camera follows her down the hall, another one observes her in the elevator while she fixes her hair. As she exits the building, the warden tells her she doesn't have to fix her hair because she is already pretty as she is. She gets to the parking lot where another two cameras look at her while she gets into her car.
8:00: She is heading to an open data workshop organized by the Colombian government in a hotel in Bogota. She drives slowly, to avoid problems with the transit cameras. She parks her car near the event's venue and walks a few blocks. Meanwhile, cameras on poles and buildings record her every step.
8:15: Upon her arrival at the hotel, a camera records her face frontally, as she approaches to the registration table for the event and she's required to write down her name, email address, ID number, address, cellphone number and her signature.
9:00-11:00: For two hours, the CCTV cameras in each corner of the conference room record Catalina's face. It is also recorded by the cameras streaming the event. No one asked her if she wanted to appear on the recording - regardless, she shows up in the transmission.
13:00: It's time for a break and Catalina goes outside to grab lunch. The best option is a Colombian corrientazo. While she eats, she looks at the TV news and she realizes that most of the news sections use footage from security cameras, showing robberies and various crimes.
13:48: She leaves the restaurant and enters a coffee shop and sees a sign that says ''For your safety, you are being watched''.
14:30: Catalina arrived at her office and surfs the internet. Her Internet Service Provider saves her browser history: visited sites, clicks and time spent on each site.
18:00: Work is done. Going home she passes by Transmilenio and remembers research she read about facial recognition cameras the mayor office wanted to install in bus stations. Madness! —she thought.
18:30: When she arrives home, the CCTV cameras from the parking lot, the elevator and the hall tape her return.