Undone by his own spying operation, arrest of drug lord shows how surveillance is used to perpetuate gender-based violence
News & Analysis
Post date
14th January 2019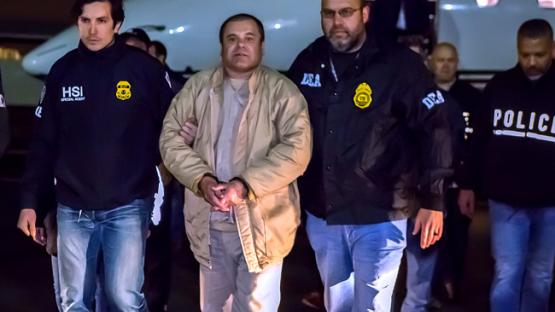 Photo credit: US Immigration and Customs Enforcement
The trial of Mexican drug lord Joaquin "El Chapo" Guzman started in New York back in November 2018. But last week, the jurors were presented with a trove of new key evidence: dozens of text messages exchanged between Guzman, his wife, and his mistresses.
The reason behind this set of revelations? Guzman had been spying on his wife and mistresses, using publicly-available surveillance software called FlexiSpy. Once installed on his targets' devices, the spyware allowed Guzman the ability to track their movements, their calls and messages, and to covertly turn on their devices' microphone. To set up the system however, Guzman was forced to rely on an outside party: a 23-year old IT expert named Christian Rodriguez, who the FBI later succeeded in turning into an informant, helping them not only crack the secure communication channels he himself had set up, but also revealing his boss's enthusiasm for FlexiSpy.
Unknown to Guzman, he was not the only one able to access his wife and mistresses' devices: the company producing the spyware could itself also access them. The next step for the FBI was to simply subpoena the company FlexiSpy, allowing them to retrieve all the messages.
Such invasive spyware, alternatively known as stalkerware, is nothing but the latest iteration in a history of gaining control over a person through the invasion of their communications and personal space – whether their personal space is their device or a physical space. In our recent report From Oppression to Liberation: Reclaiming the Right to Privacy we highlighted how such privacy violations have historically been used as forms of gender-based violence.
Court details reveal how such Guzman, who had asked Rodriguez to make 50 such "special" phones, used the software. Testifing in court, Rodriguez described Guzman as a paranoid man obsessed with controlling people around him. Once the phone was bugged, Guzman liked to play a game of calling the person and afterwards activating the microphone to hear what the person was saying about him after the conversation had ended.
Beyond the anecdotal story of a drug lord, ironically betrayed by his own paranoia, the "El Chapo" court case highlights the real dangers of such stalkerware designed for domestic use.
Like FlexiSpy, many of those stalkerware are marketed for parents wanting to check what their children are doing or who they are speaking to and employers wanting to protect their businesses. While those motives are questionable in and of themselves, it does not acknowledge the actual raison d'etre of stalkerware: allowing abusive individuals to spy on their partner.
However, the democratisation of stalkerware that – as the Guzman story shows – can be easily purchased and deployed in complete legality cause new challenges. Better education will be needed to insure people are informed about the risks of those stalkerware and know how to protect themselves. And for those considering the purchase of stalkerware, we hope the Guzman's story will serve as a cautionary tale.