New report reveals that the UK police are secretly downloading content from suspects' mobile phones on a massive scale
Press release
Post date
27th March 2018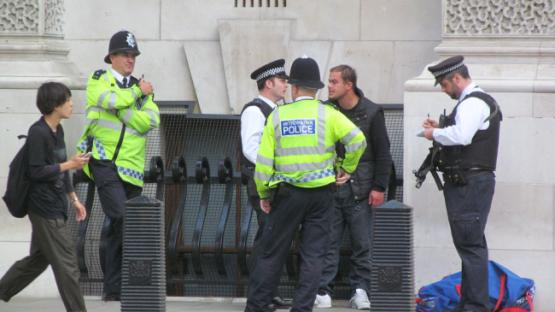 Key points:
Privacy International have today published a report entitled 'Digital Stop and search: how the UK police can secretly download everything from your mobile phone', based on Freedom of Information requests to 47 police forces across the UK about their use of 'mobile phone extraction' technologies, which enable them to download all the content and data from a mobile phone.  

Police forces across the UK are secretly downloading data from the smartphones of people across the UK, including phones belonging to people not convicted of any crime, and even phones belonging to witnesses and victims.

Police forces are not obtaining warrants, or seeking permission from people whose phones they search, and neither are they operating within any clear legal framework, meaning that these powers enable discriminatory policing to go unnoticed.

What the police are doing is potentially unlawful and Privacy International is seeking urgent answers from the Home Office.

David Lammy MP, author of the Lammy Review, has welcomed the report.
...
Privacy International have today published a new report examining technology UK police forces are secretly deploying, which enables them to download all of the content and data from people's phones. 'Digital Stop and search: how the UK police can secretly download everything from your mobile phone' is based on Freedom of Information requests to 47 police forces across the UK about their use of such 'mobile phone extraction' technologies.
For over six years police forces throughout the UK have secretly been deploying highly intrusive technology that allows them to gather vast amounts of data on individuals in the UK, including those convicted of no crime, witnesses and victims. Contracting with notorious companies such as Cellebrite, UK police forces are able to use sophisticated tools to take all data from your phone, including hidden and deleted data. This includes data about your friends, family and colleagues.
Privacy International have exposed a potentially unlawful regime operating with forces who are confused about the legal basis for the technology they are using. The police are acting without clear safeguards for the public, and no independent oversight to identify abuse and misuse of sensitive personal information. Seen in the light of ongoing issues of discrimination within the criminal justice system, this presents a serious cause for concern. 
Data can be taken from victims, witnesses and suspects without informing them. With no clear policies or guidance on the use of this technology, individuals are unaware of their legal rights in terms of:
Whether data is only taken when necessary and proportionate;

Getting the police to delete this data when there is no legal reason to retain it, particularly if they are innocent of any crime;

Ensuring data is held securely to prevent exposure of their personal data as a result of loss of records, misuse or security breach. 
Key statistics:
26 out of 47 police forces (55%) that we submitted Freedom of Information requests to admitted they are using mobile phone extraction technology. 
Out of the remaining 21 police forces (45%):
Eight police forces (17%) have trialed or intend to trial this technology
Thirteen police forces (28%) either failed to respond to our questions or stated they hold no information on the use of this technology 
Key recommendations from our report:
Privacy International's report 'Digital Stop and Search' includes eleven key recommendations including:
There needs to be an urgent independent review into this widespread, intrusive but secretive practice;

There should be a requirement for police to obtain a warrant for searching the contents of a mobile phone, issued on the basis of reasonable suspicion;

The Home Office must publish guidance for the public, regarding their rights if the police want to search their mobile phone.
Millie Graham Wood, Solicitor, Privacy International, said:
"You could search a person, and their entire home, and never find anywhere near as much information as you could from searching their phone. Yet the police can take data from your phone without your consent, without your knowledge and without a warrant. It is disturbing that the police have such a highly draconian power, operating in secret, without any accountability to the public. Given the serious problems we still face in the UK with discriminatory policing, we need to urgently address how this new frontier of policing might be disproportionately and unfairly impacting on minority ethnic groups, political demonstrators, environmental activists and many other groups that can find themselves in the crosshairs of the police.
The police are continually failing to be transparent with the thousands of people whose phones they are secretly downloading data from. An immediate independent review into this practice should be initiated by the Home Office and College of Policing, with widespread consultation with the public, to find the right balance of powers for the police and protections for the public. Let's be clear - at the moment, the police have all the power and the public have no protections."
David Lammy, MP for Tottenham and author of the 2017 Lammy Review into the treatment of, and outcomes for Black, Asian and Minority Ethnic individuals in the criminal justice system, said of Privacy International's report:
"The lack of transparency around new policing tools such as mobile phone extraction is a serious cause for concern. There are no records, no statistics, no safeguards, no oversight and no clear statement of the rights that citizens have if their mobile phone is confiscated and searched by the police. 
My Review of our criminal justice system found that individuals from ethnic minority backgrounds still face bias in parts of our justice system, and it is only because we have transparency and data collection for everything from stop and search incidents to crown court sentencing decisions that these disparities are revealed and we are able to hold those in power to account. Without the collection and audit of data about the use of mobile phone extraction powers scrutiny will be impossible.
Given the sensitive nature and wealth of information stored on our mobile phones there is significant risk of abuse and for conscious or unconscious bias to become a factor without independent scrutiny and in the absence of effective legal safeguards.
We entrust so much personal information to our phones that the police having the power to download every message and photo we have sent or received without any rights and protections is another worrying example of regulations not keeping up with advances in technology."
-Ends-
For press enquiries please contact press@privacyinternational.org or call 020 3422 4321.