Medical privacy and security in developing countries and emergency situations
Report
Post date
14th March 2012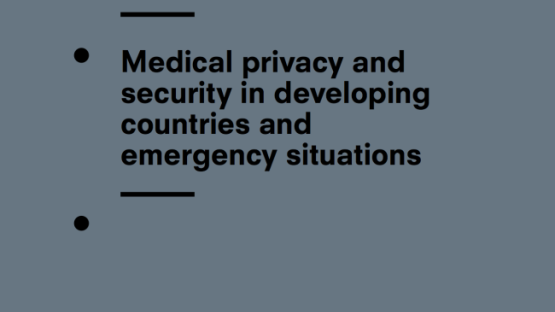 New technologies such as mobile phones and electronic medical record (EMR) systems promise to transform the provision and management of medicine all over the world. In the U.S. alone, billions are being spent on information technologies for healthcare.
This eHealth revolution could be a boon for patient privacy if the right protections are built into new health information systems; however there are growing worries that privacy and security are being overlooked by designers rushing to deploy eHealth systems. In the UK, for example, there has been ongoing controversy surrounding the National Health Service's pursuit of a 'summary care record'. Or take the case
of Germany, where the government recently suspended the national e-health card due to criticisms from doctors and experts about the security of data.
Our fear is that in many parts of the world already vulnerable patients might be inadvertently exposed to new risks through the introduction of inappropriate and insecure information technology. In the cases above, American, British and German societies are rife with patient groups, professional groups, regulators, interested politicians, and journalists who can hold government to account to ensure that the right decisions are made, and adequate protections are considered. But not every country has such rich deliberative processes.