Report on the National Data Retention Laws since the CJEU's Tele-2/Watson Judgment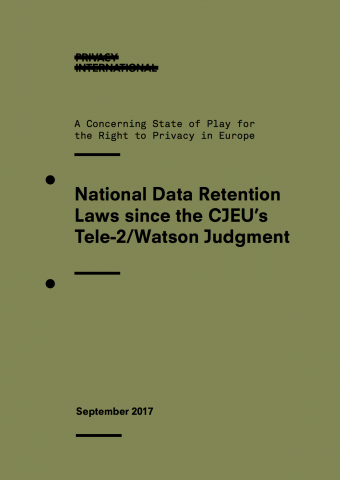 Monday, October 23, 2017
This report sheds light on the current state of affairs in data retention regulation across the EU post the Tele-2/Watson judgment. Privacy International has consulted with digital rights NGOs and industry from across the European Union to survey 21 national jurisdictions (Austria, Belgium, Bulgaria, Croatia, Cyprus, Czech Republic, France, Germany, Hungary, Ireland, Italy, Luxembourg, the Netherlands, Poland, Portugal, Romania, Slovakia, Slovenia, Spain, Sweden, and the United Kingdom). Tracking legislation and jurisprudence across different jurisdictions is often a challenge: while this report aims to be a comprehensive survey of data retention regimes in the EU to date, Privacy International would be grateful to receive any additional information, updates and clari cation.
We are a small and fiercely independent charity that picks big fights with companies and governments that attack your privacy, dignity, and freedom. Our independence means we never accept funds from industry and governments that limit our ability to criticise those same institutions who abuse your privacy, dignity, and freedom.
To help keep PI independent we need your support.