Pay No Attention To That Man Behind the Curtain: Exposing and Challenging Government Hacking for Surveillance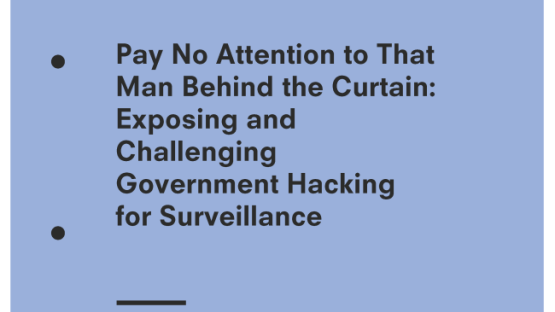 Privacy and security are both essential to protecting individuals, including their autonomy and dignity. Undermining privacy undermines the security of individuals, their devices and the broader infrastructure. People need privacy to freely secure themselves, their information, and fully enjoy other rights.
A growing number of governments around the world are embracing hacking to facilitate their surveillance activities. When governments hack for surveillance purposes, they seek to prioritise insecurity, undermining the security we so desperately need. 
The purpose of this briefing is to highlight examples of government hacking for surveillance that Privacy International, our partner organisations, and others have investigated in Argentina, Chile, Colombia, Ethiopia, Mexico and Uganda and consider them alongside our 10 Hacking Safeguards, which are designed to help civil society analyse government hacking in light of applicable international human rights law. 
These examples put into context a complicated issue and demonstrate how far governments are from what is required under international human rights law. We also attempt to answer some frequently asked questions about hacking and its implications for security. We encourage interested parties to share any examples of government hacking for surveillance with us, along with corresponding legislation, if such exists. 
Listen to our podcast
This briefing is available in Spanish.