Response to the CMA's online platforms and digital advertising market study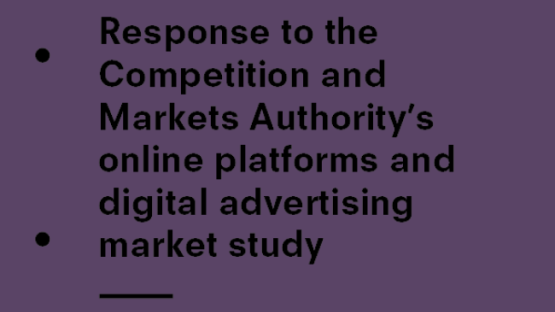 Today, we have responded to the UK Competition and Markets Authority's online platforms and digital advertising market study
In the last year, Privacy International has conducted research into the ad tech and the data brokers industry exposing and complaining about their exploitation of personal data and the lack of transparency of their activities.
Based on our research and analysis of the current trends, Privacy International provided observations on the three broad potential sources of harm to consumers in connection with the market for digital advertising: dominant position of online platforms; the lack of consumers' control over how their personal data is used and collected online; and the lack of transparency of the digital advertising market and its effects on competition and on consumers.
We believe that the digital advertising market is shrouded in opacity. The lack of transparency in the online advertising ecosystem, as well as the unlawful personal data-gathering practices, in which online platforms, ad tech companies and data brokers seem to engage, have undermined consumers' fundamental rights and affected their control over the personal data they surrender to these platforms. Ultimately, this has resulted in a significant loss of consumers' trust in the online market.
Privacy International therefore urges the CMA to address the inherent lack of transparency and the consumer detriment in the online advertising market, by making a market investigation reference, scrutinising the role of dominant or strategic platforms in the digital advertising market, and strengthening the enforcement of consumers' rights against abusive practices. In carrying out this investigation, we encourage the CMA to liaise closely with its competition and data protection counterparts both domestically and internationally.