A day in the life of a GoogBit user in 2025
Let us fast forward to 2025, and spend a day in the life of Lila, a GoogBit user...
Key findings
GOOGLE wants to buy Fitbit, but what will this mean for our future? The company already has too much data about us all, and we don't want them to now grab our health data too. These sensitive data might be used to expand the tech ginat's digital dominance.
WE fast forward to a future where your data is constantly explited for profit.
YOU can join the 'NOT ON OUR WATCH!' campaign to stop the merger!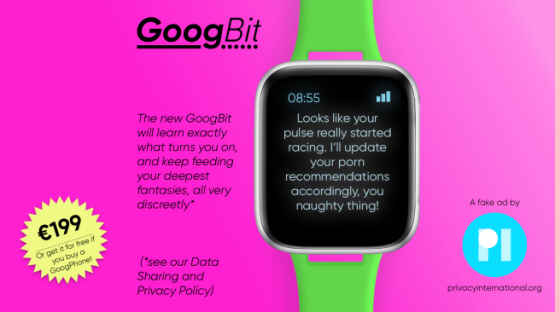 Monday, 16 June 2025
It's 7:33 am. Lila's GoogBit watch vibrates. "You got 6 hours and 57 minutes of sleep last night, including 2 hours and 12 minutes of deep sleep", the watch reads. "In total, you tossed and turned for 15 minutes only". Taking into account Lila's online browsing activity, her sleep pattern, the recent disruptions in some of her other biorhythms, as well as her daily schedule, GoogBit watch has calculated the very best minute to wake her up.