Office of Surveillance Commissioners Guidance - Covert surveillance of Social Networking Sites (SNS)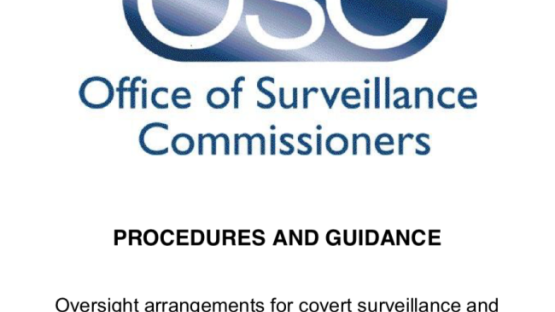 Covert surveillance of Social Networking Sites (SNS)
289. The fact that digital investigation is routine or easy to conduct does not reduce the need for authorisation. Care must be taken to understand how the SNS being used works. Authorising Officers must not be tempted to assume that one service provider is the same as another or that the services provided by a single provider are the same.
289.1  Whilst it is the responsibility of an individual to set privacy settings to protect unsolicited access to private information, and even though data may be deemed published and no longer under the control of the author, it is unwise to regard it as "open source" or publicly available; the author has a reasonable expectation of privacy if access controls are applied. In some cases data may be deemed private communication still in transmission (instant messages for example). Where privacy settings are available but not applied the data may be considered open source and an authorisation is not usually required. Repeat viewing of "open source" sites may constitute directed surveillance on a case by case basis and this should be borne in mind.
289.2  Providing there is no warrant authorising interception in accordance with section 48(4) of the 2000 Act, if it is necessary and proportionate for a public authority to breach covertly access controls, the minimum requirement is an authorisation for directed surveillance. An authorisation for the use and conduct of a CHIS is necessary if a relationship is established or maintained by a member of a public authority or by a person acting on its behalf (i.e. the activity is more than mere reading of the site's content).
289.3  It is not unlawful for a member of a public authority to set up a false identity but it is inadvisable for a member of a public authority to do so for a covert purpose without an authorisation for directed surveillance when private information is likely to be obtained. The SRO should be satisfied that there is a process in place to ensure compliance with the legislation. Using photographs of other persons without their permission to support the false identity infringes other laws.
289.4  A member of a public authority should not adopt the identity of a person known, or likely to be known, to the subject of interest or users of the site without authorisation, and without the consent of the person whose identity is used, and without considering the protection of that person. The consent must be explicit (i.e. the person from whom consent is sought must agree (preferably in writing) what is and is not to be done).